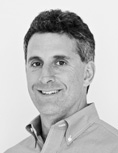 Michael Persky
Managing Partner
persky@alerionpartners.com

Prior to joining Alerion in 2004, Michael was an executive at the IBM Corporation where he was responsible for integrating the operations of Productivity Solutions into IBM's Retail Store Solutions division. Previously, Michael was President and COO of Productivity Solutions, a venture backed company offering consumer self-checkout solutions, until it was sold to IBM in 2003. Prior to Productivity Solutions, Michael was President, COO and board member of ERS International, a wireless shelf display technology company targeting the retail industry. Michael has also served as executive and Vice President of Marketing for Executone Information Systems, a public company that was acquired by Inter-Tel, and in a variety of managerial positions with VMX, a voice processing company that was acquired by Octel Communications, and with Octel, which was itself acquired by Lucent Technologies.

Michael sits on the Board of Directors of EnviroScent, True Citrus, InStadium and DeliverCareRx.

Michael received an MBA from Stanford Graduate School of Business and a BA in Economics and Organizational Behavior and Management from Brown University.