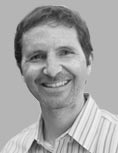 Rick Ruffolo
Venture Partner
rruffolo@enviroscent.com

Rick first became involved with Alerion in 2011 as a Board Advisor for EnviroScent. Rick stepped in on a full-time basis to service as EnviroScent's CEO & President in 2017 and 2018, and he continues to provide strategic and tactical guidance today. Rick has deep experience in the home fragrance industry, having spent the better part of 25 years in executive leadership roles at nearly every major player in the category, including P&G (Febreze), SC Johnson (Glade), Bath & Body Works, Yankee Candle and Crabtree & Evelyn. He has held multiple strategic marketing and product development roles including VP of Marketing, CMO and SVP of Brand, Marketing & Innovation.
Rick received an MBA from the Olin School of Business at Washington University in St. Louis and a BS, summa cum laude, in Business Administration from the University of Dayton.