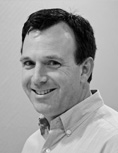 Robert Cioffi
Venture Partner
cioffi@alerionpartners.com

Prior to joining Alerion in 2005, Rob was a Senior Vice President at GE Equity, a division of General Electric Capital Corporation. During his seven years at GE, he invested over $120 million in 12 companies and sat on the board of directors of seven of those companies. Rob led investments in Productivity Solutions, Iridian Technologies, Speechworks International, and Universal Technical Institute. During his last two years at GE, Rob oversaw a team in charge of GE Equity's $700 million private equity and venture capital fund portfolio; this portfolio consisted of 90 limited partnership interests, and he sat on the advisory boards of ten of these partnerships. Prior to joining GE Equity in 1998, Rob was with Evaluation Associates Capital Markets in their funds management business. He started his finance career with Chase Manhattan in their Private Banking Group where he spent five years including the completion of Chase's Management Development Program. Prior to Chase, Rob worked on the staff of U.S. Senator James M. Jeffords.

Rob sits on the Board of Directors of the National Down Syndrome Society and the Norwalk Hospital Foundation.

Rob received an MBA from the Fuqua School of Business at Duke University and a BA in Political Science and Economics from the University of Vermont, where he currently serves as the Chairman of the Board of Trustees.